Primark plan will make Milton Keynes 'less attractive'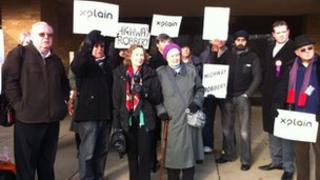 Protesters who say a £40m development plan will make Milton Keynes "far less attractive" have handed in the 1,212th objection letter to the council.
The £40m plan includes extending thecentre:mk by 90,000 sq ft to include a Primark store, moving the market and removing part of Secklow Gate bridge.
Opponents, who gathered outside council offices, say the scheme will turn the town into "one massive shopping mall".
A planning application was submitted to Milton Keynes Council in August.
The Grade II-listed shopping centre, built in the 1970s, has more than 230 stores.
'Complete madness'
It is jointly owned by UK property management companies Hermes Property Asset Management Ltd and Prudential Property Investment Managers Ltd, who are financing the project.
The proposal includes moving the market to another location at the centre.
The scheme will also create a further 17,500 sq ft retail unit, which is set to house a Primark store.
Linda Inoki, of campaign group Xplain, called the planned development "complete madness" which would have "a negative impact on the whole city".
"We don't mind new shops but we do not want faceless pension funds to turn our city centre into one, massive shopping mall with no character and nothing in it for local people," she said.
The planning application was submitted following a public consultation and thecentre:mk said more than 9,000 people signed petitions supporting the plans.
It said it would not comment on the protest.
Milton Keynes Council confirmed that the planning application was due to go before its Development Control committee in the new year.