Stewartby incinerator plan approved by Parliament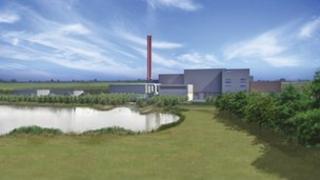 A plan for an energy-from-waste incinerator on former industrial land in Bedfordshire has been given the go ahead by parliament.
Covanta's development at Rookery Pit, near Stewartby had been approved by the planning commission in October 2011.
Councillors objected and a special parliamentary committee heard their concerns on Thursday.
It voted by a majority of four to two to throw out their case, but will discuss an amendment on Wednesday.
Covanta Energy's proposal for the former brick clay extraction pit is to build a facility which will be capable of converting approximately 585,000 tonnes of household and business waste into 65MW of electricity per year.
The plan was initially approved by the Infrastructure Planning Commission but both Central Bedfordshire Council and Bedford Borough Council objected to the proposal.
It became subject to special parliamentary procedure because the project involved the compulsory purchase of council-owned land.
'No case'
The councils jointly presented their objections, through petitions, to a joint committee of the two Houses of Parliament.
After hearing the evidence, the committee ruled there was no case to answer in respect of any of the petitions except in relation to the councils' requests for an amendment.
This relates to Covanta contributing to the proposed Bedford-Milton Keynes Waterway where its course runs through the site, by constructing a drainpipe under Green Lane in Stewartby.
Councillor Nigel Young from Central Bedfordshire Council said it was "very disappointed" with the result, but added it was "absolutely right" to have challenged "all aspects of the plan at the highest possible level".
"We have consistently maintained that the impacts of the scheme on the environment, local communities and the road network outweigh the benefits," he said.
"We continue to firmly believe that this is not a sustainable development.
"We will work now to fight for the amendment."
Malcolm Chilton from Covanta Energy said he was "very pleased" with the committee's support for the project and would be happy to contribute more to the development of the future Milton Keynes to Bedford Waterway.
"We look forward to the conclusion of the process and to being able to move forward with the massive inward investment that the project will bring to the economy," he said.
The parliamentary committee will discuss the proposed amendment on Wednesday.