Barbados rapes: Derick Crawford thanks women who fought to clear him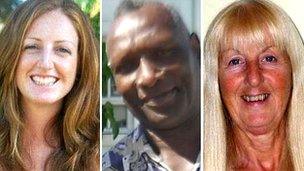 A man accused of raping two British women in Barbados has thanked the two victims for fighting to clear his name.
Researcher Rachel Turner from Hertfordshire and Diane Davies, from Anglesey, north Wales, were attacked within days of each other in 2010.
Barbadian Derick Crawford, 47, spent 18 months in jail, but a court dismissed the case against him on Thursday.
The two women are convinced Mr Crawford was not the man who attacked them and have fought to clear his name.
Dr Turner and Mrs Davies waived their right to anonymity to fight for justice for Mr Crawford.
They have called on the police to investigate the case and find the real attacker.
Mr Crawford told BBC News the support had been "very good".
He said he "couldn't be more thankful" to the women.
He also said he would be seeking compensation after being imprisoned for a crime he did not commit.
At a news conference in Barbados, Mr Crawford said he was coerced into making a confession.
Mr Crawford, his solicitor Andrew Pilgrim, Dr Turner, and campaigner Hilary Heath called for the Barbados authorities to have an inquiry into case.
Mr Pilgrim said: "We want a government inquiry into policing. One concern is that the police do not record confessions."
He said there were also concerns from Dr Turner and Mrs Davies about how rape victims were treated.
Dr Turner, who grew up near Letchworth and holds a research post at the University of the West Indies, said: "I want to see an independent inquiry to look at the circumstances of the investigation."
Ms Heath, a former actress and campaigner for better treatment for rape victims in Barbados, paid for Mr Crawford's defence.
The Royal Barbados Police said it would be commenting next week on the outcome of the case.
In November the Royal Barbados Police Commissioner Darwin Dottin said in a statement: "The Royal Barbados Police Force has an excellent reputation in the law enforcement community and is highly regarded."