Barbados rapes: Victims Rachel Turner and Diane Davies' anger at police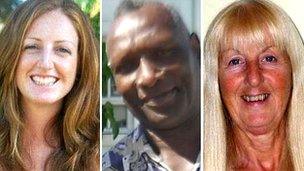 Two British women who helped free a man, who police accused of raping them in Barbados, have expressed outrage after the island's commissioner said he was happy with the investigation.
Dr Rachel Turner, of Hertfordshire, and Diane Davies, of Anglesey, were raped within days of each other in 2010.
Barbadian Derick Crawford, 47, was charged with the rapes, but the case was dismissed this month.
Police Commissioner Darwin Dottin said the case was investigated thoroughly.
In his first public comment on the case since it was dismissed, Commissioner Dottin told a press conference on Friday that the Royal Barbados Police had reviewed on the files on the case and there was "nothing that would keep me awake at night on the matter".
He suggested that Dr Turner and Mrs Davies may not have recognised the attacker because he was a "different race".
Dr Turner, 30, who grew up near Letchworth, Hertfordshire, and holds a research post at the University of the West Indies, and Mrs Davies, 63, of Valley, Anglesey, waived their right to anonymity to voice their concerns.
They do not understand why the police kept insisting on Mr Crawford's guilt long after they told them he was not the attacker, and when there was no forensic evidence linking Mr Crawford to the crimes.
Dr Turner told the BBC she was "almost speechless" at the response by Commissioner Dottin to the womens' concerns.
She said it was "preposterous and so insulting" to suggest that she would not recognise her attacker.
Dr Turner said she was concerned that the police did not seem interested in finding the attacker.
Mrs Davies said: "It is incredulous he can make these claims (that the investigation is thorough). Darwin Dottin needs to find the man who did these rapes and apologise to myself and Rachel."
After the dismissal of the case against Mr Crawford, who spent 18 months in jail, said he would be seeking compensation after being imprisoned for a crime he did not commit.
At a news conference in Barbados, Mr Crawford said he was coerced into making a confession.