Milton Keynes bus catches fire at roundabout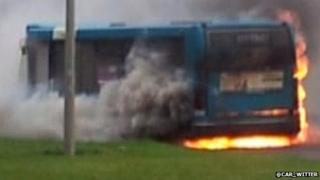 A bus with nine people on board burst into flames at a Milton Keynes roundabout.
The driver and eight passengers were on board as smoke and flames poured from the engine.
They were taken to safety as fire crews tackled the fire at the back of the single decker bus at Medbourne roundabout, Grange Farm.
Buckinghamshire Fire and Rescue Service said the interior of the bus was cut open to ensure the fire had not spread.
A spokesperson for the bus operator Arriva said: "At 13:26 on Monday, 7 January one of our buses was travelling along Fulmer Street when the driver was made aware by a passenger that they had seen smoke from the rear of the vehicle.
"The driver pulled over off the roundabout at a safe place and evacuated all passengers from the bus.
"He immediately called the fire brigade and also tried to attempt to use the fire extinguisher himself to put out the fire and keep it under control.
"The fire brigade attended the scene and were able to extinguish the fire.
"The fire was contained in and around the engine compartment.
"A spare bus was taken to the stop so passengers were able to continue with their journey. Nobody was injured as a result of the fire."