Sling fall death at care home was 'a disgrace' says grandson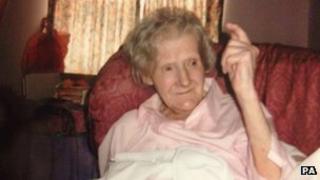 The death of a 100-year-old woman who fell out of a body sling at a Bedfordshire care home has been described by her grandson as "a disgrace".
May Ward died of multiple injuries after staff tried to hoist her out of bed at Meppershall Care Home in 2010.
Hatfield Coroner's Court heard the great grandmother's carers were not trained to use the sling.
Ms Ward's grandson, Lee Ward, said she did not deserve to die as she did.
The 36-year-old said: "She was a rock. She was always there for dad, for us, for mum, whenever we needed her.
HSE investigation
"She never deserved what happened, it's a disgrace really."
The jury gave a verdict of accidental death but management or staff at the care home could now face criminal charges in relation to Ms Ward's death under health and safety legislation.
A Health and Safety Executive (HSE) spokeswoman said: "HSE's investigation is ongoing. It would be inappropriate to comment further at this time."
Mohamed Zarook, managing director of the care home's owners, G A Projects Ltd, could not answer most of the questions from coroner Edward Thomas as a result of the HSE's ongoing investigation.
Ms Ward sustained skull fractures, a broken leg, a black eye and other cuts and bruises in the fall in August 2010.
The jury heard the two carers put Ms Ward back into bed after she fell and then changed her clothes, which could have made her injuries worse.
Poor rating
The former RAF cook was taken to hospital but died the following day.
The carers, who were from China and Bulgaria, have now left the UK.
Concerns about moving and handling residents at the home had been raised as far back as November 2009 by watchdog the Care Quality Commission.
The care home was given a zero, or "poor" rating, by the commission in December 2009, which was uprated to a one-star rating in May 2010, about three months before Ms Ward died.
Mr Thomas told the jury Ms Ward was a "publican of the old school", saying she "kept a good house".
Mr Thomas said he would write to the Care Quality Commission urging vigilance in similar circumstances.