Stevenage woman faces fine for wheelie bin 'hazard'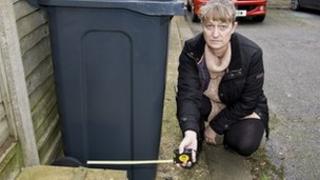 A Hertfordshire woman could face a £1,000 fine because her wheelie bin protrudes over her property boundary by 12 ins (30.5 cms).
Maths teacher Alex Young, 47, has been told by Stevenage Borough Council the position of the bin is a hazard.
She called the claim "complete nonsense" and said the bin is on raised hard standing below the outside of her back garden fence.
The council said it was "a legal responsibility" to keep highways clear.
Ms Young said she will plead not guilty to a charge alleging that under the Environmental Protection Act 1990 she failed in the "placing of receptacles as required for the purpose of avoiding a nuisance or detriment to the amenities of the area contrary to Section 46(6)".
She has been told that where her bin stands is an obstruction to the highway, a hazard to the visually impaired or people using wheelchairs - and that grass cutting cannot be carried out.
Block access
The council said the bin should stand a few feet away on her garage driveway at the rear of her terraced home, at the bottom of a cul de sac in Wisden Road.
However, Ms Young said moving it would block her access to her rear gate and if she parked her car closer to the edge of the driveway she would have to pull out onto the road "blind" of approaching cars.
She revealed that just yards from her home, the council's own grit bins and concrete posts protrude further into the road than her bin.
Last summer Ms Young received a fixed penalty notice requesting she pay a £100 fine for the "incorrect presentation of waste receptacles".
It informed her she could appeal against the fine which she did, but then heard no more.
On 20 December, she came home to find a letter telling her that, as a result of her non payment, she was to appear at the magistrates court.
Stevenage council said it was unable to comment on individual cases but had carried out a campaign to encourage residents to replace their bins after collection to ensure that pedestrians and maintenance workers had access to paths.
A spokesperson said: "The Environmental Services team are happy to work with residents to find a solution to any bin storage problem."
Ms Young will appear at Stevenage Magistrates Court in January.