Barbados rapes: UK criticised in rape inquiry call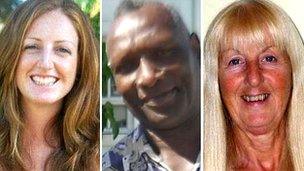 Two British women who helped free a man accused of raping them in Barbados have criticised the UK government for failing to support their call for an inquiry into the case.
Dr Rachel Turner, of Hertfordshire, and Diane Davies, of Anglesey, were raped within days of each other in 2010.
Barbadian Derick Crawford, 47, was charged with the rapes, but the case was dismissed last month.
Dr Turner said they were "disappointed" about the lack of government support.
The Foreign Office said: "We are appalled by the horrific ordeal that both Dr Turner and Ms Davies have had to endure. We can appreciate this must continue to be a deeply upsetting time for them.
"British consular officials have provided and will continue to provide as much consular support as possible.
"We also supported a programme for 10 Caribbean police officers to visit the UK to deepen their understanding of UK support for victims of sexual assault.
"This is a matter for the Barbadian authorities and we cannot interfere with another country's judicial system."
Dr Turner, 30, who grew up near Letchworth, Hertfordshire, and holds a research post at the University of the West Indies, and Mrs Davies, 63, of Valley in Anglesey, waived their right to anonymity to clear the name of Mr Crawford.
They have called for an inquiry into their treatment by Barbadian police and why the police kept insisting on Mr Crawford's guilt long after they told them he was not the attacker, and when there was no forensic evidence linking Mr Crawford to the crimes.
Dr Turner said: "I think they (the UK Foreign Office) should be supporting us in calling for an independent inquiry into what happened at the very least."
She said she was concerned as the UK government was paying for training of Royal Barbados Police (RBP) officers.
She added: "Our rapist is still at large and free to act again and no doubt he will because he knows he will get away with it."
After the dismissal of the case, Mr Crawford, who spent 18 months in jail, said he would be seeking compensation after being imprisoned for a crime he did not commit.
At a news conference in Barbados, Mr Crawford said he was coerced into making a confession. The RBP has said it is satisfied with the investigation.
In a letter to Mrs Davies, the Foreign Office said the British High Commissioner in Barbados had met the island's Attorney General and Police Commissioner "raising your concerns".
But the letter adds: "I am not convinced overt public criticism of the police at this stage will further advance our shared objectives - that is to secure justice for you and ensure a similar scenario does not arise again."
Related Internet Links
The BBC is not responsible for the content of external sites.