New jet terminal for business users at Luton Airport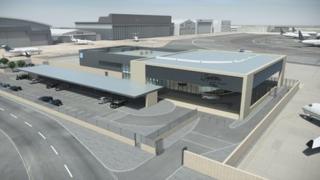 A new passenger terminal and hangar are being built at Luton Airport for business users and private jets.
Signature Flight Support says its hangar will be able to house two jets and could be finished by the autumn.
The new passenger terminal, which could open by the end of next year, will include conference and catering facilities.
Signature said the new terminal and hangar would replace its existing facility, which it bought in 2000.
Maria Sastre, president and chief operating officer, said the new services would provide a "world-class travel experience".