Bedfordshire, Buckinghamshire and Hertfordshire escape harsh conditions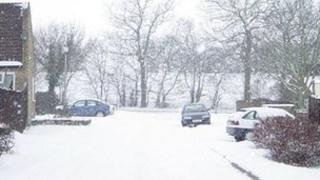 Predictions for fresh heavy falls of snow in Bedfordshire, Buckinghamshire and Hertfordshire failed to materialise on Friday night.
Gritting lorries were out in force and police still warned drivers to avoid non-essential journeys.
The three counties remain on amber alert to "be prepared" for snow.
Luton Airport said it did not anticipate any further flight cancellations but was still keeping an eye on the weather forecasts.
Major routes are said to be clear, but there could be ice on minor roads which have not been gritted and on the hard shoulders of motorways.
Arriva buses said most of its services in the three counties were operating, with some exceptions on untreated roads, but were subject to delays.
Operations manager for the East of England Highways Agency John Caldwell said motorists could travel with care.
A signalling problem caused disruption near Bletchley with delays of up to 30 minutes between Watford Junction and Milton Keynes Central on Saturday.
Some Virgin trains have been cancelled and passengers are advised to contact the operator for latest information.
Hertfordshire Police said motorists planning to driver should "be prepared for the journey to take longer than usual and take extreme care".
On Friday the number of closed schools rose to 373 by the afternoon with 88 shut in Bedfordshire, 76 in Hertfordshire and 209 in Buckinghamshire
Train company First Capital Connect said it was running a normal timetable but spokesman Roger Perkins predicted delays on Thameslink through Bedford and the Great Northern route to King's Lynn in Norfolk.