Pinewood Studios submit new £200m expansion plan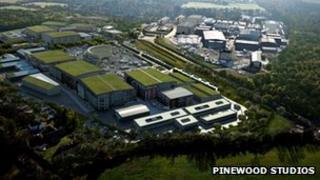 Plans for a new £200m expansion of Pinewood Studios have been submitted.
It is claimed the 15-year project, which includes building studios, stages and streetscapes at the Buckinghamshire site, will create more than 3,000 jobs.
The proposal would add 100,000 sq m (107.64 sq ft) to the current 100-acre (40-hectare) site, which has been home to more than 1,500 films over 76 years.
The government rejected a previous project, which included more than 1,000 homes, last year.
The studios were recently used to film the latest James Bond instalment, Skyfall, as well as the Oscar-nominated hit Les Miserables.
Owners Pinewood Shepperton said the project will enable the company to respond to increasing international demand for studio facilities and rising competition from outside the UK.
Chief executive Ivan Dunleavy said the plan represented a "critical opportunity" for the UK film industry.
"Without infrastructure to meet the rising demand, the UK will inevitably turn away business," he said.
"Pinewood Studios, the UK film industry and UK plc cannot afford to allow this to happen."
'Extensive consultation'
In January 2012, the Department for Communities and Local Government upheld a local council rejection of the studio's previous £200m Project Pinewood scheme because it would be "inappropriate in the green belt".
The studio said it undertook "extensive consultation" with film producers, businesses and community groups before submitting a new plan.
Iver parish councillor Alan Oxley said he had not had a chance to look at the detail yet but his immediate reaction was that as it was a development in the green belt, the "normal presumption" was to be against it, unless it proved to be in the public interest.
"Clearly Pinewood is an important industrial partner in the area but they will have to make a very good case to use green belt land," he said.
"If they get permission, there will have to be constraints that it must be used by them and not turned round for commercial development which would be totally unacceptable."
South Buckinghamshire District Council member, Roger Reed, said once the application had been validated a decision would be made within 16 weeks.
"As with all other applications the proposal will be considered on its own individual merits," he said.