Luton shooting: Police seek more witnesses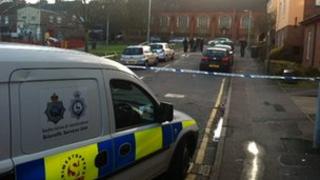 Two men and a woman, who were in the vicinity of a shooting in Luton, may be vital witnesses, police said.
Detectives said a white woman walking a dog may have seen the incident at the junction of Russell Street and Wellington Street on 30 January at about 14:05 GMT.
They also want two men, one with light blonde hair, and one standing by some flats, to come forward.
A woman, 36, was taken to hospital with a hand wound and released the same day.
'Vital information'
Police believe she was a passenger in a car and shots were fired after an argument between her partner and two other men.
The victim and her partner are believed to have driven off as their vehicle came under fire.
Officers would like to speak to the dog walker, who was in the park near the junction at the time.
They are also looking for a white man, aged between 30 and 40, with slicked back light blonde hair, who was walking up Wellington Street.
Another man, approximately 60-years-old, standing outside the door to some Wellington Street flats, near to the Russell Street junction is also being sought.
Police believe the male driver of a silver estate, who was forced to brake as the victim's car fled the scene, may also be able to provide vital information.
Two men seen running towards Stanley Street after the shooting are described as black, with one wearing black sunglasses and both of them wearing hats, one with ear flaps.