The Fall of the Essex Boys: Producer denies cashing in on murders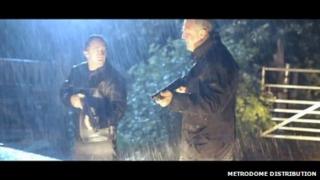 The producer of a new film about the so-called "Essex Boys" murders has denied cashing in on the crime.
The Fall of the Essex Boys is the fourth movie about the gangland triple killing, which took place at Rettendon, near Chelmsford, in December 1995.
Drug dealers Tony Tucker, 38, Pat Tate, 37, and Craig Rolfe, 26, were shot dead in a Range Rover on a farm track.
Producer Jonathan Sothcott said: "I don't think we're cashing in. It's an important story."
Michael Steele, 69, and Jack Whomes, 51, were jailed for life in January 1998 for the murders.
Steele, of Great Bentley, near Colchester, and Whomes, of Brockford, Suffolk, have always maintained their innocence, but lost an appeal against their conviction in February 2006.
Last week Steele failed to have his case reviewed for a second time.
The High Court refused to grant him a judicial review into an earlier decision not to allow an appeal.
'Someone's cashing in'
Ivan Cole, who lives in Rettendon, said: "It's something you don't want to happen on your doorstep.
"It doesn't give the village a nice reputation but I think the majority of people would just say 'unfortunately it happened here - just get on with it'.
"I just think someone's cashing in and making a few bob out of it."
The new film, released on DVD next week, follows earlier movies Essex Boys, Rise of the Footsoldier and Bonded By Blood.
Mr Sothcott, of Richwater Films, said: "It's not a huge-budget Hollywood movie. No one's going to become a millionaire out of this picture.
"It's just a low-budget, independent British film and we're trying to make a living telling stories that are popular and this is an evergreen, popular story that people are fascinated by.
"These events did happen here, they had an impact on the community at the time and they have a continuing impact, like Jack the Ripper and Whitechapel.
"I don't think it's going to go away. It's one of those things where people have an interest historically, rather than in a gruesome way."
Mr Sothcott said he knew of two other films about the murders scheduled for release this year.