Protesters fear Leighton Buzzard retail parks will 'kill high street'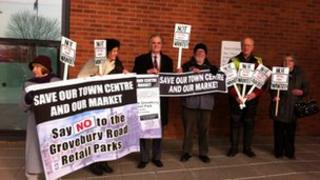 Plans for one of two retail parks on the outskirts of Leighton Buzzard have been approved by the council, despite a campaign against it.
Central Bedfordshire councillors have backed proposals for the smaller of two schemes suggested for Grovebury Road, south of the town.
They said the plan for a DIY unit, four other shops and a restaurant could "bring benefits" to the town.
Protesters said councillors had "betrayed" the town centre.
Environmental campaigner Victoria Harvey said she was "incredibly disappointed".
She said: "Shops are likely to move out to the out-of-town retail park, and then why would other shops want to move into Leighton Buzzard [High Street]?"
The Claymore Group said: "Our guiding principle from the outset of this project has been to offer real retail choice which complements the town centre rather than competes with it."