Duke of Edinburgh officially opens heart centre in Luton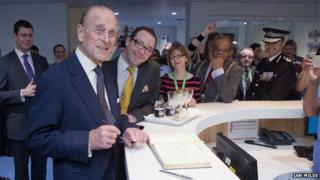 The Duke of Edinburgh has officially opened a new cardiac centre at Luton and Dunstable Hospital.
Prince Philip, 91, visited the £5.5m centre, which can treat about 700 people annually and opened last year.
The duke, who was treated for a blocked coronary artery at Papworth Hospital in Cambridgeshire in 2011, took a guided tour of the new unit and met staff.
Spencer Colvin, chairman of the NHS Foundation Trust, said the hospital was "delighted" by the visit.
"This project has involved a challenging and imaginative redesign of the original hospital building to provide us with a high-quality facility and a service which benefits so many local people," he said.