Fernwood Free School: Children stranded as plans scrapped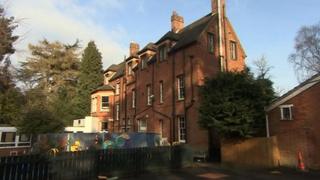 More than 100 children have been left not knowing what school they will attend in September after a free school plan in Bedfordshire was scrapped.
Fernwood Pre-Prep Independent School, in Aspley Heath, was granted free school status more than a year ago.
But earlier this month the Department for Education (DfE) changed its mind, leaving children stranded.
The DfE said it was talking to the school and sponsor. The prime minister said the issue would be examined.
The independent school, which caters for children aged 12 months to nine years, had opted to become to a free school after its current head teacher Mary Denyer said she would retire at the end of this academic year.
Free schools are state-funded schools set up by groups of parents, charities or other providers. There are about 80 already open with plans for a further 102 this year.
'Blip in the system'
The deadline to apply for state school education in September passed in January, meaning parents have been left in the hands of the local council to help them find places.
Parent Nas Rockley said she knew families who risked having to send all their three children to separate schools following the decision.
Mid-Bedfordshire MP Nadine Dorries raised the issue in Parliament, describing the situation as a "blip" in the free school system.
Ms Dorries, who was suspended from the Conservatives in November, said: "Fernwood School... was offered free school status 14 months ago as part of the Barnfield Federation, but last week that offer was removed without the school knowing why."
Ms Dorries urged Prime Minister David Cameron to "implore" officials to inform her why the school's status had changed.
"There are 110 very agitated parents and I need to help them frame an appeal," she said.
Mr Cameron said Education Secretary Michael Gove would investigate.
Central Bedfordshire Council said they would assist the parents in finding a school place and would "endeavour to process late applications as quickly as possible after the allocation date".