The Surgicentre in Stevenage to receive 'enforcement action'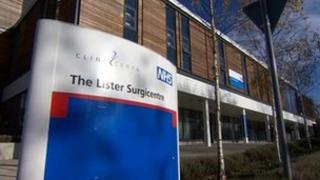 Regulators are taking action against an NHS clinic in Hertfordshire, run by a private company, after inspectors found patients were still at risk and facing long waits for surgery.
The Surgicentre, next to Lister Hospital in Stevenage, has been under review following a series of mistakes and the unexpected deaths of three patients who had routine operations last year.
Now the Care Quality Commission (CQC) is taking action, after its latest inspection before Christmas discovered some patients were still waiting up to a year for treatment.
The clinic said it was taking steps to improve its performance.
In its report, the regulator said Carillion PLC, the company which runs the Surgicentre, had been unable to prove it was able to effectively manage waiting times. A serious incident had also not been reported to the CQC.
Long waits
Sixty-five NHS patients had also waited six months for treatment, while 52 had waited 18 weeks, even though new referrals for eye and joint operations had been suspended last autumn.
The CQC report concludes: "Despite being told by the senior managers that there were plans in place to ensure people did not breach waiting times, no evidence was provided to show that improvements had taken place so that people could be assured of being treated in a timely manner."
The Surgicentre has failed to comply with regulations for more than a year and has faced criticism from patients and local health professionals.
The MP for Stevenage, Stephen McPartland, has also called for the contract to be taken away from Carillion.
Inspectors discovered some steps had been taken to improve the assessment and monitoring of the service.
'Protect people'
In a statement the CQC said it "is now taking action to protect people who use the service; however our legal processes do not allow us to go in to further detail at this time.
"During this time we will continue to work closely with our partner agencies with regard to the safety and welfare of people using the service."
Carillion has consistently said the standard of treatment has been effective, and that it was co-operating with the CQC over its continuing inspections.
Mike Hobbs, of the Surgicentre, said the CQC report recognised that the unit had made progress after previous reports but "there is more to be done to achieve full compliance".
"We have taken the CQC's feedback very seriously and are continuing to work extremely hard to ensure that we make the required improvements that will give these services a clean bill of health from the CQC," he said.