Barbados rapes: MPs to meet minister over concerns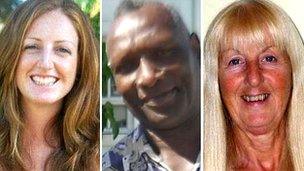 MPs are meeting the minister with responsibility for the Caribbean over the case of two women who helped free a man accused of raping them in Barbados.
Dr Rachel Turner, of Hertfordshire, and Diane Davies, of Anglesey, were raped within days of each other in 2010.
Barbadian Derick Crawford, 47, was charged with the rapes, but the case was dismissed last month.
Stevenage MP Stephen McPartland and MP for Ynys Mon Albert Owen are meeting minister Mark Simmonds.
Dr Turner, 30, who grew up near Letchworth, Hertfordshire, and holds a research post at the University of the West Indies, and Mrs Davies, 63, of Valley in Anglesey, Wales, waived their right to anonymity to clear the name of Mr Crawford.
They have called for an inquiry into their treatment by Barbadian police and why the police kept insisting on Mr Crawford's guilt long after they told them he was not the attacker, and when there was no forensic evidence linking Mr Crawford to the crimes.
Mrs Davies said she hoped the meeting between their MPs and the minister would encourage the government "to make Barbados aware they cannot treat British tourists the way they do. If someone is attacked or is a victim of crime they need to be treated respectfully".
She added that she hoped the British government could "persuade the Barbados police to re-open the investigation and find the man who attacked me and Rachel".
Mr McPartland said: "We just want to be reassured by the minister that Barbados is a safe place, which does not seem to be the case at the moment.
"I am worried what happened to my constituent and what could happen to British tourists there."
Mr Owen said he hoped to establish the facts of the case so constituent's concerns could be addressed.
Related Internet Links
The BBC is not responsible for the content of external sites.