Dunstable knifepoint sex attack: More CCTV of suspect released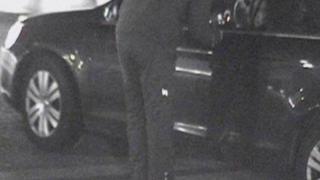 Police have released more footage of a man wanted for questioning after a woman was sexually assaulted at knifepoint.
New images show another woman being approached, but on this occasion the man could not get into her car.
The victim was leaving the Shell garage in Poynters Road, Dunstable, Bedfordshire, on 21 February, when the suspect got into her 4x4.
She was forced to drive to Tomlinson Avenue where she was attacked.
Officers have confirmed that a woman approached by the same man two minutes earlier has come forward.
Det Insp Ruth Dodsworth said: "She had her car door locked so he was unable to gain entry to her vehicle."
Police said a man got into the victim's unlocked car at 18:55 GMT as the woman, in her late 20s, was driving off the forecourt.
The offender is described as white, about 5ft 10in (1.78m) tall and of slim to medium build.
He was wearing dark trousers, which possibly had a logo on them or fluorescent markings. He also wore a dark hooded jacket with the hood up.
Police said it was a "terrifying experience" for the victim and are keen to talk to anyone who may have seen the attack, been approached by the same man, or who saw the dark grey 4x4 parked in Tomlinson Avenue.