Biddenham 'attack' dog handed to police by owner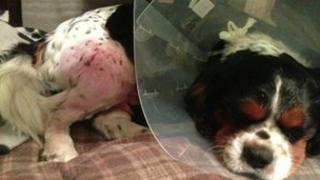 A dog has been handed to police in Bedfordshire by its owner after a pet spaniel was savaged and photos of the attack posted online.
Mafalda Clewlow, from Biddenham, posted images of the "ferocious attack" on her King Charles Spaniel, as they walked near Ouse Valley golf course on Friday.
Police said the dog was handed in by the owner on Wednesday morning.
The RSPCA now owns the dog and an application will be made for it to be put down, police said.
Its breed is being determined before police decide what action to take against the owner, who has not been arrested.
Ms Clewlow said her dog, Spot, was badly hurt but was recovering well.
The mother-of-two said she tried to separate the dogs and was bitten, before two passers-by helped pull the dogs apart.
"If it wasn't for them I think my dog would probably be dead," she added.