Dog stuck in drain for four days rescued by firefighters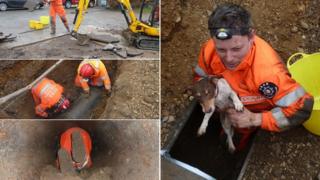 More than a tonne of concrete and ballast was removed from a section of car park to access an underground pipe and rescue a dog trapped inside.
Lulu, a Jack Russell terrier, entered the steel pipe beneath the car park in Dorney, Buckinghamshire, on Friday afternoon while being walked.
It took five firefighters six hours with spades, cutting equipment and a mini-digger to free the dog on Tuesday.
Station manager Doug Gruchy said he was "delighted" with the happy outcome.
Buckinghamshire Fire and Rescue Service intervened when it became concerned Lulu's owner and friends were in danger of injuring themselves during their search.
"It is quite understandable that an owner, when faced with a situation like this, will want to go to extraordinary lengths to save a pet," Mr Gruchy said.
"But the situation was in danger of becoming hazardous."
Lulu has been reunited with her owner and the pipe, which was no longer in use, has been closed off to prevent more animals entering it.