Stevenage cyclists decry 'dangerous' sign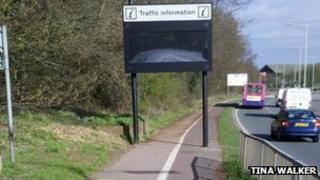 A sign obstructing a Hertfordshire cycle path is a "dangerous waste of money", cyclists have claimed.
A support pole of a traffic information display has been placed in the middle of the route on Hitchin Road in Stevenage.
Hertfordshire County Council said it was "exploring options" to rectify the position of the £17,500 sign.
Jim Brown, from Stevenage Cycle Touring Club (CTC), said it was "hardly encouragement" for cyclists.
A council spokeswoman said the authority was "aware of issues with the position of the sign".
"We are exploring options including cranking the support poles outwards so they are outside the pavement and cycle lane area," a statement read.
Mr Brown said the council claimed to support "sustainable and active travel" but was doing the opposite.
The club produced a mock-up photograph of the sign, stating: "Cyclists: Please note, you are about to ride into a pole."
'True priorities'
"This dangerous obstruction is hardly an encouragement to people to get on their bikes," said Mr Brown.
"It perhaps shows the true priorities for the county council.
"[It's] dangerous and a waste of money when we are told that budgets are tight.
"The money would have been better spent fixing the many potholes that are dangerous for cyclists and motorists."
He called for it to be removed as soon as possible and efforts made to improve the surface and signing of existing cycle routes.