Aylesbury residents help raise £293,000 in a week for sick boy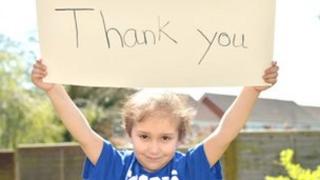 People in a Buckinghamshire town have helped raise £293,000 in a week to send a seven-year-old to the US for what they hope is life-saving treatment.
Alexander Novakovic, from Aylesbury, had surgery and chemotherapy on a brain tumour but his family believe proton beam therapy is his last option.
Alexander's Fund, a campaign to raise cash for his treatment, not available in the UK, began last Wednesday.
Its target of £255,000 had been exceeded by about £40,000 a week later.
Just over £293,000 has been raised from more than 10,000 donations made by people, in the town and around the world.
Alexander was diagnosed with a medulloblastoma, a highly malignant primary brain tumour, in November.
'Much kinder'
He responded well to treatment which finished in March, but still requires radiotherapy to the brain and spine.
The family began exploring the option of proton radiotherapy abroad, which they described as "a much kinder and less harmful" treatment.
A number of facilities were contacted by an oncologist at the John Radcliffe Hospital in Oxford, but due to the waiting list and extensive spread of the cancer, the family was told he would have to undergo traditional radiotherapy in the UK.
However, the Massachusetts General Hospital in Boston decided Alexander would be a good candidate for the treatment and had a slot available at the end of April.
Kelly Welch, from the Parent and Teachers' Association at Bedgrove Infant School, where the boy is a pupil, said his plight had been brought up at a meeting on 16 April, where it was explained how much money was needed to send him to the US.
'Absolutely unbelievable'
The next morning a few mums got together and started discussing options, and on Thursday a cake sale raised £1,100 in one afternoon.
Ms Welch said the town's response had been "humbling and overwhelming" and that within a couple of days most people had posters and flyers up.
Shops, pubs, businesses and individuals all rallied to the call for help.
Resident Rohena Latif raised about £2,000 from shaving her head, something that she said "in her heart she had to do". Tramps Hair Dressers raised £3,700 from a quiz night.
Hartwell's estate agents replaced the pictures of houses in their office window with campaign posters and are matching the money donated directly to them.
"The phrase community spirit has been used I don't know how many times over the past week but it's absolutely true," said Ms Welch.
"It's indescribable, the words elated, relieved and shocked are being banded around, it's absolutely unbelievable."
The family has said all the money raised above the initial target will help fund aftercare for Alexander and help other children affected by cancer.