Bedfordshire blue tit's lucky escape from cooker hood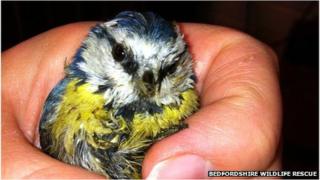 An adventurous blue tit had a lucky escape when it fell into an oily cooker hood at a house in Luton.
The bird had become trapped in the extractor and was rescued by an RSPCA officer using "a spatula and spoon to release it from the grease".
Staff at Bedfordshire Wildlife Rescue cleaned "gunk" off the bird before incubating and releasing it safely.
They initially believed it had fallen into the oven but the RSPCA confirmed it got no further than the hood.
RSPCA animal welfare officer Kate Wright described it as "the most peculiar rescue I have ever done".
'Very tricky'
She had to kneel on the hob and remove the front and sides of the cooker hood before using kitchen utensils to retrieve the hapless bird.
It was a "very tricky rescue", she said.
Rescue centre manager Sam Bedford, who later looked after the bird, said she had never seen such a "mischievous" blue tit.
"When he was brought in he was absolutely covered in a horrible greasy mess. He was very lucky."
The bird was given fluids, cleaned and incubated, then the process was repeated.
"The last thing we wanted was for him to start preening before we'd thoroughly removed the gunk," Mrs Bedford added.
"I have no idea how he got himself into that position.
"Robins get into lots of mischief, getting into sheds and all sorts of places, but I've never seen a blue tit get into this sort of scrape before."
The fully-recovered bird was released the day after he had been brought in.