Delaney Brown death: Murder accused 'used car as weapon'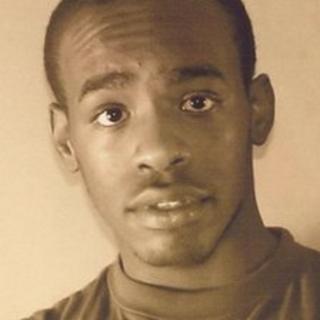 A teenager on a bicycle was killed when a rival gang member in Luton deliberately drove on to a pavement at speed, a jury has heard.
Delaney Brown, 19, was propelled into a wall on 5 September and died almost instantly, Luton Crown Court heard.
Opening the prosecution case, Stewart Trimmer QC said: "This was not a road accident, this was deliberate murder. The weapon chosen was a car."
Kyle Beckford, 22, Of Waleys Close, Marsh Farm, Luton, denies murder.
The jury heard the men had been school friends but later drifted into rival groups, with Mr Brown joining the Lewsey Farm gang and Mr Beckford becoming a member of the Marsh Farm gang.
Mr Trimmer said there were "substantial hostilities" between the groups, with other violent incidents at the time of the murder.
Mr Beckford "deliberately drove the car on to the pavement on Vincent Road, Leagrave, and directly at the bike, at speed," said Mr Trimmer.
"Delaney Brown was propelled in to a wall and died almost instantly at the scene," he said.
The jury heard Mr Beckford drove off without stopping, leaving Mr Brown on the ground with a crushed chest and a broken neck.
The defendant admits driving the car earlier in the day but denies being behind the wheel at the time Mr Brown was hit, Mr Trimmer told the court.
The trial continues.