Mother asked to pay back £375,000 compensation after son dies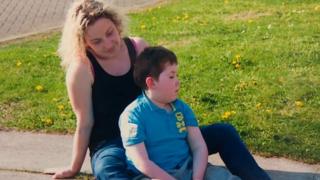 A mother says she is "devastated" at having to sell her home to pay back compensation she was given to care for her disabled son, who has since died.
Deborah Mackay, 33, was awarded £705,000 after doctors failed to spot her unborn son Calum had spina bifida.
The NHS Litigation Authority now wants £375,000 returned as the money was to care for Calum until he was 10. He died at the age of six.
It said it had a "responsibility to manage the public purse".
Ms Mackay, who lives in Clapham, near Bedford, said she was "devastated but had learned to accept" the decision to recall the money but feared she would be left without a home.
"Because the house isn't selling I could end up homeless," she said.
'Beautiful memories'
Ms Mackay spent £450,000 on the property and fitted it with items to help care for her son.
She said Calum, who was born in 2005 and died of organ failure two years ago, "loved" the house.
"He was amazing, an inspiration, so strong and full of life," she said.
"I've got so many beautiful memories here with him.
"I understand why I have to give the money back - it's just that I could have no home to go to."
The NHS Litigation Authority, which is handling the case for Bedford Hospital NHS Trust, said it appreciated it was a "very difficult time" for Ms Mackay.
A spokesperson said: "There are no plans currently to force a sale of this property, which is owned by trustees, one of whom is Ms Mackay.
"We are working to agree a reasonable period of time for her to make appropriate arrangements to return the money."