Kempston murder inquiry: Serafettin Demirsay's partner traumatised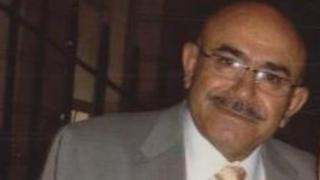 A woman who tried to defend her partner as he was stabbed to death in their Bedfordshire home has been left traumatised by the attack, police say.
Turkish-born Serafettin Demirsay, 65, was killed in Vineyard Way, Kempston, at about 21:30 BST on 14 May after three men forced their way in.
His 68-year-old partner was threatened, stabbed in the arm and had money and jewellery stolen.
A man, 24, arrested on suspicion of murder has been released on bail.
Police have returned to the scene one week on from the murder to stop cars and pedestrians in a bid to find people who may have seen the men approach the house.
Mr Demirsay, known locally as Sharif, was stabbed after answering a knock at the door.
His partner, who had lived with him for more than 20 years, tried to stop the attack before being hurt herself.
She was treated in hospital and is now recovering from her injuries.
'Utterly devastated'
Det Ch Insp Tim Redfearn said he had visited the woman who witnessed Sharif being "brutally stabbed".
"It was a very emotional meeting and I can only describe this lady as being utterly devastated," he said.
"Three men entered Sharif's home and we need to identify them and why they did this."
During the incident, the offenders stole items from the woman's handbag including about £1,000 intended for use at a family wedding, and jewellery of sentimental value.
The gold Asian-style pieces included eight bangles, all with designs on the outside, one plain heavy gold ring and three rings with imitation stones.
A pair of drop earrings, with bell-shaped bottoms, gold earrings with red stones and cut-out design and two chains, one with a leaf design, were also taken.
Officers want to speak to anyone who saw three men approaching the house on 14 May or who has seen anyone with the jewellery.