Wembley Championship final: Watford fan 'gives up' on banner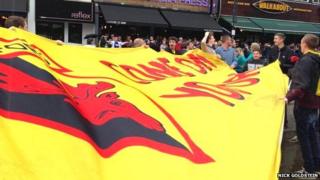 A Watford fan will not be able to fly the club's giant banner at the Championship play-off final unless he pays to do so, it has emerged.
Nick Goldstein believes it will cost about £1,500 to take the 30-foot "Come On You 'Orns" banner to Monday's match.
He said the banner had been used at grounds around England, but it was the first time the issue of payment had been raised.
A Wembley spokesperson said fans' safety was "paramount".
Mr Goldstein, a Watford fan for 13 years, said he spent two days contacting Watford FC and the FA to find a way of taking it to the game against Crystal Palace.
Banner 'rigmarole'
After working out the cost the 25-year-old said he just "gave up".
Wembley spokesperson said: "The clubs know that any request of this nature must be made formally. At this time, Watford FC have made no such request.
"Flags of this size are manoeuvred by professional event contractors and the cost covers this specialist team. The stadium makes no money from this process."
The £1,250 cost, excluding VAT, for large banners pays for a team of eight contracted staff to safely monitor it around the ground, the spokesperson said.
"It was a waste of time. I'm just frustrated," said Mr Goldstein.
"Everyone has been persuading me to take it in. The only way to rectify it is to go through the rigmarole."
The Watford fan, of Bushey, Hertfordshire, said his 30ft by 15ft (9.1m by 4.6m) banner had been paraded over fans' heads at different stadiums for years and ground staff had never raised any issues.
"We've had it [the banner] up and down the country - it's been to Portsmouth and Newcastle, it came to Leicester for the play-off semis. People love it," said the season ticket holder.
"People like seeing it - it's that whole mentality of taking something that represents your club."
In a statement to the BBC, Watford FC said: "We have checked the documentation we received from the Football League and nowhere in there does it state about clubs requesting large flags, etc.
"Instead, fans are asked to contact The FA/Football League as they're hosting the game."
The Hornets qualified for Monday's Championship play-off final against Crystal Palace after beating Leicester on aggregate in a dramatic finale at Vicarage Road earlier in the month.
Wembley Stadium, which is owned by the FA, also said the large banners must be flame retardant and the organiser must bring the flag into the stadium with appropriate health and safety certification.