Kempston murder inquiry: Police seek link with car arson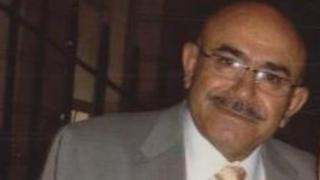 An arson attack on a car is being investigated by police for links to the murder of a 65-year-old Turkish-born man in Bedfordshire.
Serafettin Demirsay was stabbed to death in Kempston when three men forced their way into his home.
Police were called on Wednesday to Corby Close in Kempston after a man smashed the window of a BMW car and poured accelerant inside.
The fire was small and it was later removed for examination, police said.
CCTV from the local area has also been examined by police who are conducting interviews with residents on Hartwell Drive and surrounding areas.
Partner stabbed
Det Insp Richard Wall said: "We are investigating whether there is a link between this car fire and the murder of Mr Demirsay."
He added: "We are moving ever closer to establishing who killed this man and why and we will be relentless in our pursuit of those responsible."
Police officers will be in Kempston over the next few days stopping and talking to local residents about what they may know or have seen and handing out more leaflets prompting people to come forward.
Mr Demirsay's 68-year-old partner fought off the attackers and was threatened, stabbed in the arm and had money and jewellery stolen.
A man, 24, arrested on suspicion of murder has been released on bail.
Mr Demirsay, known locally as Sharif, was stabbed after answering a knock at the door.
His partner, who had lived with him for more than 20 years, was treated in hospital and is now recovering from her injuries.