Magna Carta in St Albans for 800th anniversary link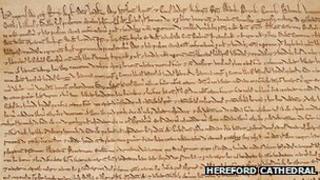 A copy of the original Magna Carta is to appear in St Albans for the first time, to celebrate the 800th anniversary of the city's link with the charter.
A meeting in the city in 1213 ultimately led to the agreement that became the historic document in 1215.
The charter will be displayed in a climate controlled environment at St Albans Cathedral in August.
An exhibition about the document opens at the Museum of St Albans on 1 June.
The Magna Carta, which is Latin for great charter, is one of the most famous documents in English history.
It was a peace treaty between the king and the barons and set out the principles of freedom under the law, limiting the power of the king and upholding the rights of the individual.
On 4 August 1213, St Albans Abbey hosted the first meeting between barons and the clergy, led by Archbishop of Canterbury Stephen Langton, to discuss severe grievances against King John.
The meeting started the build-up to the sealing of the Magna Carta at Runnymede two years later.
There are only four copies of the original 1215 Magna Carta still in existence - at Salisbury Cathedral, in Lincoln Castle and two at The British Library, London.
The original charter, which will be on loan from Lincoln, will be displayed in St Albans as part of the city's Magna Carta Festival, a series of events over the weekend of the 2 - 4 August, and will remain in the cathedral until 29 August.
Ahead of the festival weekend, an exhibition at the Museum of St Albans, highlights the key individuals in the charter's story.
Magna Carta 1213: the Journey Starts Here runs until 15 September.
Councillor Julian Daly said it expected the festival to be "a weekend to remember".
"I hope that the whole community will embrace this opportunity to commemorate our city's unique role in the history of the development of fundamental human rights," he said.