George Michael leaves hospital after M1 crash injury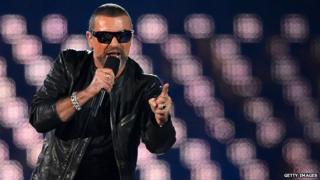 George Michael has left hospital nearly two weeks after suffering head injuries in a crash on the M1.
The 49-year-old singer was a passenger in a Range Rover that was involved in an accident at junction 6a in Hertfordshire on 16 May.
Michael, real name Georgios Panayiotou, was airlifted to a specialist trauma centre in London.
A statement on his website said he had been discharged and was continuing "to rest and recuperate".
It added: "He is well and thanks everyone for all the messages of support."
Receptionist Katherine Fox, 23, from Dunstable, said she tended to the injured singer as he lay on the road covered in blood.
"He had a deep cut above his left eyebrow which was really bleeding down his face into his teeth," she said, speaking last Wednesday.
"Even if I had known who it was, I probably wouldn't have recognised him."
Car drama
The East of England Ambulance Service said Michael was fully conscious throughout his treatment on the motorway, near St Albans.
A Hertfordshire Police spokeswoman said officers were unaware of any damage to the Range Rover and confirmed no other vehicles were involved.
The accident was the latest vehicle-related drama for the pop superstar, who said he nearly died after contracting pneumonia in Vienna 18 months ago.
In September 2010, Michael received an eight-week prison sentence after he crashed his Range Rover into a shop in north London the previous July.
He also got a five-year driving ban after pleading guilty to driving under the influence of drugs and possessing cannabis.
In 2006 the former Wham! star was banned from driving for two years and sentenced to 100 hours of community service after being convicted of driving while unfit through drugs. The singer had been found collapsed in his Mercedes.