Luton fireworks and Christmas lights in doubt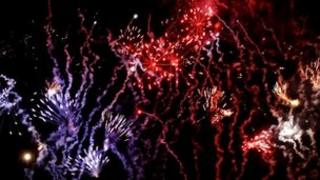 Luton's annual fireworks display is in doubt and its Christmas lights might not be switched on as the council has said it has no money to pay for them.
The fireworks at Popes Meadow and the lights switch-on regularly draw in thousands of people every winter.
But Luton Borough Council said it was going through "very difficult financial times" and had no allowance in this year's budget to pay for either.
It said it would explore whether sponsorship could help pay for them.
'Do our best'
The authority said it had to make savings of up to £49m over the next three years and make "tough decisions to achieve a balanced budget".
The annual fireworks cost the council about £30,000.
The council's leader Hazel Simmons said even though the authority owned the Christmas lights, it could not afford to turn them on.
"You have to fit them up - that costs money - and you have to run the electric that runs it, so its additional funding," said Ms Simmons.
"We'll do our best - we'll work with the business community and other sponsors to fund the Christmas lights.
"The budget cuts have been very difficult and we've had to make some very serious decisions.
"We're looking at focusing that money on the core services and those that work for the local community and protect the vulnerable."