Kempston Sharif Demirsay died of stab wounds to chest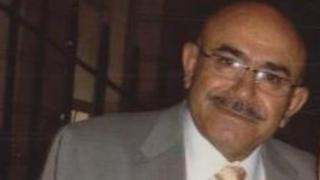 A man killed during a robbery at his Bedfordshire home died of stab wounds to his chest, an inquest has heard.
Turkish-born Serafettin Demirsay, 65, who was known as Sharif, was attacked in Vineyard Way, Kempston, on 14 May after three men forced their way in.
The offenders stole about £1,000 and jewellery of sentimental value.
Police said they were not convinced the robbery was the reason for the attack and are due to make an appeal on BBC Crimewatch later.
Mr Dermisay and his 68-year-old partner were attacked after he answered a knock at the door.
She was stabbed in the arm and both were taken to hospital, where Mr Demirsay died.
His granddaughter, Nina Gill, is expected to appear on BBC Crimewatch and said he was "a truly adored man" who had been taken from the family in "the worst way possible".
The inquest into Mr Demirsay's death was opened and adjourned in Bedford by coroner David Scott Morris.
A man, 24, arrested on suspicion of murder has been released on bail.