Bedford man kills estranged wife in street attack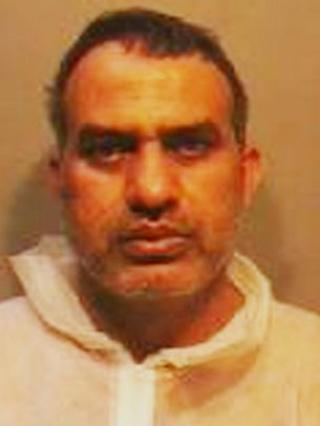 A jealous husband who stabbed his younger wife to death in a Bedfordshire street has been jailed for life.
Sajeed Mahmood, 52, murdered Afsana Kosser, 35, the day after a court awarded her the family home and custody of their children.
The Northampton bus driver was jealous of his wife's relationship with a man at Bedford job centre where she worked.
At Luton Crown Court, Mahmood of Sandy Road, Bedford, admitted manslaughter but was convicted of murder.
The court heard Mahmood, who entered Britain on a false passport from Pakistan in 1994, feared he would lose his children and the family home.
His wife was born in Halifax and her marriage to her cousin Mahmood had been arranged by the family.
In January 2012, Mahmood had told Ms Kosser she could have a divorce, and later that month he pronounced Talek - the Islamic divorce, the court heard.
The jury was told she obtained a county court order entitling her to the house they had bought together in Bedford.
Wanted new life
Prosecutor Ian Wade QC said: "A powerful emotion of jealousy was working away at Sajeed."
On 11 April last year he waited for Afsana to leave the home to go to work.
When she reached Dudley Street in Bedford he launched a "ferocious attack" stabbing her 24 times.
He dialled 999, saying: "I have just killed my wife," before calling members of his family to tell them what he had done.
However, Mahmood told his barrister Diana Ellis QC he did not remember assaulting his wife.
Judge Michael Kay QC said Afsana wanted a new life in Bedford and Mahmood was "angry and jealous" and "stalked her".
The judge said he would serve 25 years before parole would be considered.
"You were self-obsessed and frustrated you were not getting your own way. You have deprived two young children of their mother.
"They will grow up knowing what you have done to their mother," the judge said.
"It was a brutal attack - one launched in rage."