Jordan Maguire Luton Marsh Farm stabbing: CCTV images released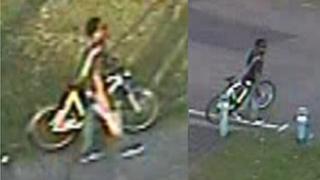 CCTV images have been released showing two male suspects wanted by police in connection with the fatal stabbing of a man in Luton.
Jordan Maguire, 20, was found on 26 May at his home in Thrales Close and died later at Luton and Dunstable hospital.
A man, 22, and a girl, 16, were arrested and released on bail last week.
His mother Julie, 46, said: "What's happened has killed us, it's killed the community."
The suspects caught on CCTV were dressed in jeans and dark tops and pushing a light-coloured bike.
Mrs Maguire, who had lived in the house with her son for 10 years, said he was "a well-loved, well-known and well-groomed young man who wouldn't hurt a fly".
She said: "Everybody loved Jordan, everybody knew him, he was always smiling. He was so loved and if he was in your life then your life was blessed.
"What's happened has killed us, it's killed the community, there is no laughter any more. It's broken us. He was the only man in my life and I loved him to the sky and back."
Officers said they had not traced the murder weapon or established the motive for the killing.
They revealed the man who had been pushing the bike and the 22-year-old man, who had a dog, knocked at the front door of Mr Maguire's home.
The 16-year-old girl remained outside with the dog and the other man also stayed outside acting as a "lookout".
Police said Mr Maguire let the two men into his home which is significant because he never let anyone in he did not know.
Det Ch Insp Steve Collin, of the Bedfordshire, Cambridgeshire and Hertfordshire Major Crime Unit, said: "I would urge anyone who may have seen the incident itself or anyone with even the smallest piece of information to come forward."