Stevenage company Astrium celebrates SES-6 satellite launch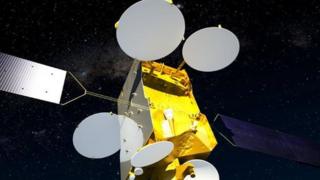 A Hertfordshire company that designed and built a major part of a satellite has been celebrating its launch in Kazakhstan.
The six-tonne SES-6, built by Astrium, set off from Baikonur Cosmodrome just before 10:20 BST.
Its structure and propulsion system was designed and manufactured at the company's Stevenage site.
It is due to deliver communication services across America, Europe and the Atlantic Ocean.
SES operates satellites used by Sky TV. As well as TV broadcasting this latest satellite will support mobile communications and other digital projects.
'Harsh environment'
Jeremy Close, from Astrium, said the Stevenage site was responsible for building the satellite's mechanical platform or "service module".
Other elements were built in Portsmouth and Germany.
Mr Close described the service module as the satellite's "life support system" in the harsh environment of space.
"With plus 150 degrees centigrade on one side of a satellite and minus 150 degrees centigrade on the other, the service modules keep the electronics at about room temperature so they work properly," he said.
A launch party was held at the Stevenage site, attended by many of those who built the satellite, who watched the live launch feed.
Operations manager Keith Ellis said the launch had gone successfully.
"The next major milestone will be in the early hours of tomorrow morning when they will do the final separation of the satellite from the launch vehicle," he said.
"Once that's happened, the satellite is on its own and it will drive itself to its final orbital position."