Caldicott sex abuse case: Jury out in ex-headmaster trial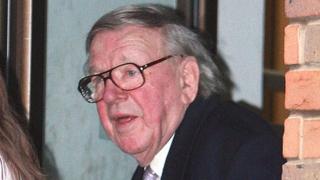 A jury has retired to consider its verdict in the trial of an 82-year-old former headmaster accused of sexually abusing boys at his preparatory school.
Roland Peter Wright, of Farnham Royal, Buckinghamshire, denies 13 charges of indecent assault and two of inciting boys to commit gross indecency.
It relates to seven boys at Caldicott Preparatory School in the 1960s and 70s, Aylesbury Crown Court has heard.
The jury heard Mr Wright allegedly abused boys in his study bedroom.
The prosecution said one alleged victim told his GP in 2000 about abuse that happened in his final year at the school in 1967, when he was aged 12 or 13.
Mr Wright, who was then the coach of the school's rugby team, woke the boy in his dormitory and told him to go to his study, where he was molested, the court heard.
The jury was told Mr Wright had "always denied" all the allegations.
Mr Wright, who was known by his middle name Peter, also taught French at the school.
He became its headmaster in 1968 and held the post for 25 years until his retirement in 1993.
The prosecutor said there was an atmosphere of "sexual disinhibition" at the school, where some sexual contact took place between children aged seven to 13.
The jury has heard complaints made in 2000 did not result in criminal proceedings for legal reasons.