Police do safety message cover of Cliff Richard's Summer Holiday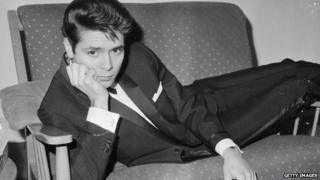 A cover version of Sir Cliff Richard's Summer Holiday by Bedfordshire Police has received a mixed reception.
The song, which topped the chart in 1963, has been given a "light hearted" reworking by the force, with the lyrics changed to promote crime prevention.
Sally Rodé, a fan of 55 years, said it was a "fun" tribute.
But on Twitter, @john_pile suggested the police should write a song encouraging people to stop "stabbing and shooting each other".
The music of the song, which was taken from the film of the same name, has been kept the same for the new version of the track which was recorded voluntarily by an officer at the force.
But the lyrics have been changed to lines including: "We're gonna shut the windows tightly, we're gonna leave a light on too.
"We've made sure the doors are locked up, so burglars can't get through."
'Holiday ruined'
Ms Rodé, 62, said: "People will listen and, I hope, take on board the messages as well as recall those halcyon days when Cliff drove that red double decker bus on our cinema screens."
Another avid fan, Sandie McGreish, who has been involved with the East Anglian Cliff Richard fan club, was less impressed.
"Nice idea," she said. "But thankfully it won't be a hit."
Andrea Briggs, e-communications manager at Bedfordshire Police, said the song was a new approach to encouraging people to stay safe.
"No-one wants to have their holiday ruined because they failed to take a few easy steps to secure their home," she said.
"We were hoping to do a video to support the song, on a bus, and did contact Sir Cliff Richard but unfortunately he wasn't available."
Ms Briggs said the song would be streamed via the police website and circulated via its social media outlets.
A spokesperson for Sir Cliff Richard said he was currently on tour and unavailable for comment.