Old Warden airshow pilot died when 'gusty winds caused nosedive'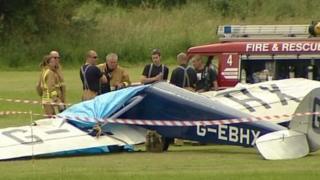 A pilot practising for an airshow in a vintage wooden plane died when gusty conditions caused it to nosedive into a field, an inquest has heard.
Trevor Roche, 52, from Wiltshire, was killed when the 1923 De Havilland DH53 Humming Bird crashed at Old Warden Aerodrome, near Biggleswade, last July.
He died instantly from a severe head injury, Dunstable Coroner's Court was told.
A jury recorded a verdict of accidental death.
Mr Roche, who was married and lived near Salisbury, had flown on missions during the Gulf War and was an experienced commercial pilot.
Monday's inquest heard he was at the Bedfordshire aerodrome on 1 July, preparing to take part in that afternoon's air display.
At about 10:00 BST, he took the single-seater, fixed-wing plane, part of the Shuttleworth Collection kept at the venue, for a trial flight, due to last about 10 minutes.
Coroner David Morris was told it had a top air speed of 55mph which, in that day's windy conditions, meant it would have been "challenging" to pilot.
'Dull thud'
Policeman John Walker, who was in the control tower, said Mr Roche appeared to be making a turn during the flight, but was flying low above a small copse of trees.
He said the manoeuvre changed from a rounded curve and the aircraft dropped nose first into the ground directly in front of the control tower.
"When it hit the ground, it did with a dull thud sound," he said.
Air accident investigator Andrew Blackie said the most probable cause of the accident was that Mr Roche lost control of the plane in gusty wind conditions.
He said if the plane's speed dropped to below 42mph, the wind passing over the wings would not provide enough lift.
Mr Blackie said the wind over the trees may have also created turbulence, causing the plane to roll.
He said the evidence was that the plane had briefly recovered before rolling again and then nosediving.
At that stage Mr Roche had "little margin to recover", Mr Blackie said.