Robert Whichelow: Ware Lotto winner lands 'lucky' double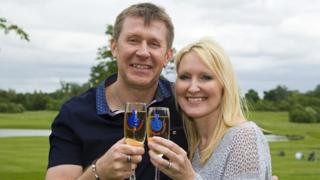 A man from Hertfordshire is celebrating a double-winning weekend after landing a windfall of £113,969 courtesy of the Lotto and a horse called Lucky Numbers.
Robert Whichelow, 52, from Ware, placed a £10 bet on the horse running in the 14:45 at Chester and won £90.
Hours later his Lucky Dip Lotto ticket matched five numbers and the bonus ball to win £113,879.
Celebrating his father-in-law's 70th birthday, he said little did he know the weekend would be "so memorable".
Mr Whichelow's run of luck started on Saturday morning when he picked Lucky Numbers from the paper.
Thinking nothing of the name at the time he placed his bet and then helped his wife Caroline, 44, with planning for his father's party that night.
Mr Whichelow said he would invest £100,000 for his family's security but the rest would be spent on "having fun" which will include a Christmas trip to Lapland for the couple and their youngest daughter.