Shaw's Corner hosts first UK George Bernard Shaw conference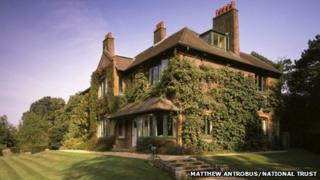 On entering the sprawling redbrick rectory in a quiet corner of the Hertfordshire countryside, it feels as if its celebrated resident has just popped out for a walk.
With a selection of headgear on the hat-stand and paper scattered round a typewriter in the study, you expect its owner to return at any moment.
But among typical Edwardian artefacts in the Ayot St Lawrence house, there are signs it belonged to someone out of the ordinary.
Your eyes are drawn to the Oscar on the mantelpiece. And the 1926 Nobel Prize for Literature.
'Presence felt'
For this was the home of playwright George Bernard Shaw for 44 years, until he died in the living room in 1950.
Gifted to the National Trust seven years earlier, the rooms remain much as he left them and, as a result, you can feel Shaw's presence everywhere.
It is perhaps surprising therefore, that up until now, it has never hosted a conference to celebrate his life and work - and neither has the United Kingdom.
"There is not a great tradition of Shaw scholarship in this country," explained assistant house steward Lizzie Dunford.
"Most of it is in the United States so conferences tend to take place in North America."
But things are changing.
In 2010, house manager Sue Morgan collaborated with the Arts and Humanities Research Council (AHRC) to award a three-year Shaw PhD studentship at the University of Hertfordshire.
Now, this week, about 100 delegates from all over the world are enjoying Shaw At Home, a week-long series of talks, plays and music organised by the trust and both the UK and International Shaw Societies.
"It's a great chance for us to share our place with the Shaw community, and they are very much enjoying it," said Ms Dunford.
"It's undoubtedly very different discussing his work here than in a University of Texas conference room.
"There is a physical connection that you don't get in a neutral room as it's where many of his texts were written or revised."
'Time tunnel'
During the week there have been contributions from Shaw Society president and biographer Sir Michael Holroyd, Guardian drama critic Michael Billington and author Stanley Weintraub.
There has also been an exhibition of Shaw's photography, a concert of his favourite music and performances of his plays including Mrs Warren's Profession, Buoyant Billions and Geneva.
Mike O'Hara, from the Shaw Society, who arrived from the US, said the experience of talking about Shaw on his own turf was "extraordinary" and travelling to Shaw's Corner was like going through a "time tunnel".
"There's a feeling of authenticity here, it's a wonderful experience and it gives you a sense of why Shaw came to this lovely community and made a home here," he said.
"It also gives you a sense of how he got away from his own persona, the way he escaped from being the world-famous GBS to just being a gentleman in his garden."
It is said Shaw and his wife Charlotte chose to live in Ayot St Lawrence after seeing a gravestone in the village inscribed: "Mary Ann South. Born 1825. Died 1895. Her time was short".
They felt if 70 years was considered short in the village, it would be a good place to settle and, in the tranquillity, Shaw wrote nearly a play a year until 1920.
Major works such as Pygmalion, Man and Superman and Major Barbara were created in his revolving writing hut at the bottom of the garden.
"He adored the house," said Ms Dunford.
"He barely left it and his ashes are even scattered in the garden."
She added that while he left what he wanted people to see in his home, Shaw "didn't leave instructions" for the trust.
"His only wish was that it was to be a living shrine," she said.
His work of course, lives on.
The astute critiques of society's greed, corruption and hypocrisy so evident in his plays are still relevant, still discussed and are part of the reason international Shavian enthusiasts have headed for Hertfordshire this month.
"He is an incredible voice for the future," said Ms Dunford.
"If you strip away the Edwardian costumes and listen to the words you hear a manifesto to work for. It is outstanding, breath-taking and brilliant."
Mr O'Hara said: "Many of the things he observed about humanity still remain relevant - we still haven't figured our way out of this mess."