Two killed by train at Elstree & Borehamwood station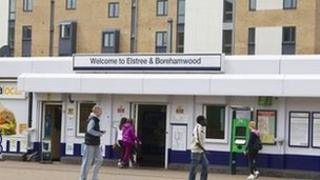 Two teenagers died when they were hit by a train near a Hertfordshire railway station.
A girl, named by police as Charleigh Disbrey, 15, and a man named locally as Mert Karaoglan, 18, were struck close to Elstree & Borehamwood station at about 21:00 BST on Monday.
They were students at Hertswood Academy in Borehamwood.
The pair were pronounced dead at the scene, British Transport Police said.
The two, both from the Borehamwood area, are believed to have been hit on the southbound line, 200 yds (183m) north of the station, by a train travelling from St Albans to Sutton.
Roger Perkins from First Capital Connect said there were no passengers on board, but the two drivers in the cab were being offered the company's "full care and support".
Gary Sanderson from the East of England Ambulance Service said: "On arrival it was evident nothing could be done."
Counselling offered
A police spokesman said the force was not treating the deaths as suspicious and was not looking for anyone else.
Hertswood Academy said it was informed of the deaths by police at the start of the school day on Tuesday and had held a special assembly before sending pupils home.
"From the details that we have been given we believe that two of our students, one in year 10, and one in year 13, have tragically died," a statement said.
Head teacher Peter Gillett, added: "As a close community, obviously we are devastated by this tragedy.
"Both students were talented, hard working and well respected members of our academy.
"Our thoughts are with their families at this most difficult time."
The school added it was offering counselling and closely monitoring the wellbeing of all students in the coming days.