Bilderberg conference police want help with £500,000 funding gap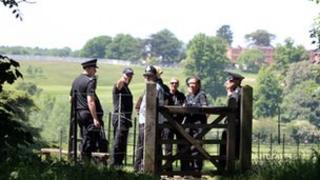 Police are asking the government for help to cover a £500,000 budget shortfall for policing a conference at a Hertfordshire hotel.
Hertfordshire Police said costs for covering the Bilderberg conference in Watford were expected to be about £1m.
A spokesman said organisers were contributing £500,000.
Police and Crime Commissioner David Lloyd said the operation should be "cost-neutral" and was talking to the Home Office about further funding.
Political and financial figures from north America and Europe met at the hotel for four days earlier this month to discuss world issues and there were protests around the event.
In answer to a Parliamentary question from Labour MP Paul Flynn, Policing Minister Damien Green said the event would cost police about £1.3m.
A Hertfordshire police spokesman said it would take about a month to work out the final amount but costs were likely to be lower than expected because there was "no trouble".
'Secretive' meeting
Among those who attended the conference were Prime Minister David Cameron, Chancellor George Osborne and Cabinet Minister Ken Clarke.
The group's secretive nature attracted criticism and security was high as hundreds of protesters were expected.
Hertfordshire police said the numbers of protesters ranged from about 300 on the Thursday and Friday to more than 2,012 on the Saturday.
The maximum number of officers deployed at any one time was 241.
There were only two arrests for minor offences and no crimes were reported linked to the protest.
Mr Lloyd said: "My intentions, and the constabulary's, are to keep the policing operation cost-neutral for the people of Hertfordshire.
"We are having on-going discussions with the Home Office around other funding sources to achieve this end and bridge any funding gap.
"Details will be released as soon as they are finalised."