Bedford Borough Council says hundreds of jobs under threat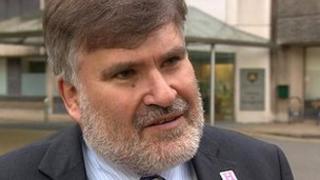 About 200 staff posts could go at Bedford Borough Council as it looks to make £17m savings over the next three years.
The proposals were accepted by the local authority's executive committee on Wednesday and they will go out to a public consultation next month.
They include savings of £1m through restructuring the management team.
The council is under pressure to save £37m by 2019. It has already saved £48m since 2010 and cut 600 posts.
The committee also signed off a £150,000 saving by restructuring office space and a £200,000 saving by using different computer software.
David Hodgson, elected mayor of the Liberal Democrat-led council, said: "So far probably about 600 posts have gone. There's probably another 200 posts roughly this time.
'Doing the right thing'
"We want to protect the most vulnerable in society the best we can, but it's very, very tough.
"We hope that people won't see a change in services. We're not closing any children's centres or any libraries and we've kept our weekly bin collections."
He said many savings would be made in the back office and changes to IT would allow people to access more council services online.
Stephen Moon, Conservative leader of the opposition, said the councillors in charge were "doing the right thing", but added: "Our particular concern is that they have been too slow to make some of the essential savings that are required.
"The council is under immense strain going into the future, because sooner or later we are going to have to face making the sorts of cuts that will be painful."