Connors family members lose appeal against sentences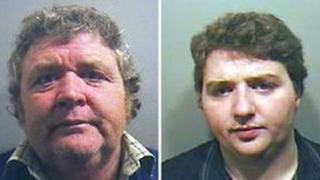 Four members of a traveller family jailed for keeping vulnerable men in servitude and making them work unpaid have lost appeals against sentence.
Tommy Connors Sr, 53, was jailed for eight years and his son Patrick, 21, for five.
James John Connors, 34, and mother-of-three Josie Connors, 31, were jailed for 11 and four years respectively.
At the Court of Appeal, Lord Judge told the family from Bedfordshire they had kept the men in medieval "serfdom".
'Brutalised and exploited'
Men who had been sleeping rough or attending soup kitchens were persuaded to work for the Connors family at Green Acres Caravan Park at Little Billington near Leighton Buzzard.
They were forced to work long hours laying block paving making the family huge amounts of money, Luton Crown Court heard during their trial.
The family's lawyer told three High Court appeal judges the sentences had punished them too heavily.
Lord Judge and two senior colleagues said the sentences were "not a day too long" and dismissed the case.
Speaking of the men forced to work, Lord Judge said: "In effect, they were held against their will at a succession of travellers' sites."
"They were controlled by threats, exploitation and, indeed, infantilised so that each was deprived of the resources and the will to get away."
Their crimes came to light in July 2011 when one of their victims escaped after being sent out to tout for paving business.
He told police about the abuse and the plight of other men sparking an investigation.
Lord Judge, sitting with Mr Justice Mackay and Mr Justice Griffith Williams, said some of the victims were beaten and left emaciated and filthy.
"They exploited fellow human beings, reducing them to servitude and penury," he said.
"It's perfectly clear that, for their own advantage, they brutalised and exploited profoundly vulnerable human beings, reducing them to effectively medieval serfdom."