Westlands care home workers: 'We did not sleep on duty'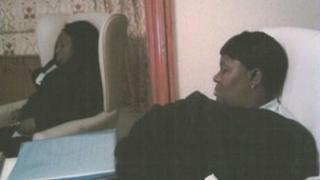 Two care home workers denied sleeping during a night shift and said they did not disconnect residents' alarms.
Amersham Crown Court heard Titilayo Ajala, 56, and Henretta Offae, 41, were found asleep at the Westlands care home in Olney, Buckinghamshire.
Ms Ajala, of Penryn Avenue, Fishermead, Milton Keynes, and Ms Offae, of St Chad's Road, Derby, said they had been resting their eyes.
Each denies 19 charges of ill treatment or neglect.
Each charge relates to one resident at the home, the court heard.
'Residents removed buzzers'
The two workers were found asleep in armchairs in front of the TV in the early hours of 18 August 2011 by two managers, the jury was told.
The home specialises in looking after people with dementia.
Team manager Barbara May said personal alarms had been disconnected in "quite a few" of the residents' rooms.
Both defendants denied putting residents in double incontinence pads to allow them to rest longer.
They said they had not taken the plugs out of alarms designed to detect falls and had not slept on duty.
In her police interview, Ms Ajala said some of the residents removed their buzzers.
'Too much work'
Ms Offae told police she thought the buzzers were plugged in.
Ms Ajala said she had taken a break at about 02:20 BST in a small lounge.
"Because of work I sat down and watched TV," she said.
"I was not sleeping, just resting my eyes for some minutes."
Ms Ajala complained about her workload, which she said was "too much, especially the laundry".
Ms Offae said she came into the small lounge about 10 minutes later.
She said: "It was during my break time. You can rest your eyes just a little. I had not gone to sleep."
The trial continues.