'Grave doubts' over Luton Town Hall's £5m makeover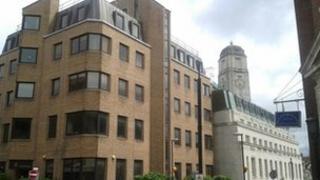 Councillors have expressed "grave doubts" that a refurbishment of Luton Town Hall will cost £5m and could save £1m a year, as the council has claimed.
Luton Borough Council said a makeover of the building's 1980s extension would allow it to increase from 300 to more than 500 staff at the site.
The authority said it means two council offices can close, saving money on rent and running costs.
Opposition councillors said it was a "good deal" if the figures are correct.
The council said the refurbishment of an extended part of the building was the "most cost effective way" to provide long term office space.
Council officers said the £5m budget would be "reviewed regularly" during the design process.
The work, due to start in December, is scheduled to finish before the end of 2014.
'Good investment'
Last November, the council said it expected to have to find £48m of savings by 2016, including £22m in the 2013-14 budget.
Council officer Robin Porter said the £5m spend, although appearing to be "a very big figure", was "a good investment".
"This is going to enable us to save £1.2m per year for the next 20 years," he said.
David Franks, Liberal Democrat group leader, said whether it was money well spent depends on whether the council had "got their sums right".
"Their track record is not terribly good, but if they have, then it's a pretty good deal," he said.
"We will know more when they start getting quotes in from builders - but I have grave doubts the figures they are coming out with are going to ring true."
Conservative councillor Mike Garrett said he understood the reasoning behind it but was concerned about timing.
"It could save a lot of money, but do we do these sorts of things at a time when we're making drastic cuts," he said.