Habib Ullah's police search death marked in vigil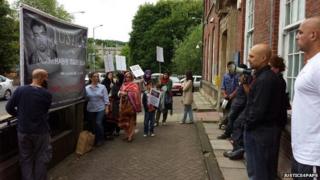 The family of a man who died during a police search in High Wycombe have held a vigil in the town.
Habib Ullah, 39, of Slough, Berkshire, collapsed during a routine stop and search in a car park in July 2008.
A 2010 inquest was abandoned and the Independent Police Complaints Commission (IPCC) has been re-investigating the case.
The vigil, outside the police station, was a reminder that answers were still needed, the family said.
Organisers said about 40 people took part in the vigil, which marked the fifth anniversary of Mr Ullah's death.
He was part of a group searched as they sat in a car in High Wycombe.
During the search by Thames Valley Police officers, he had breathing problems and later died in hospital.
In an investigation, the IPCC did not interview the officers involved but allowed them to submit written statements instead.
In March 2010, the IPCC cleared the officers of any wrongdoing.
But under oath at the inquest the following December, the officers admitted to removing potentially key evidence from their written statements to the IPCC, claiming they were told to do so by a police federation lawyer.
The revelations led to the inquest being abandoned so that the IPCC could further investigate.
'Sheer frustration'
Mr Ullah's cousin, Zia Ullah, said the vigil was part of a continuing campaign to raise awareness.
He said: "The vigil is to ensure we profile exactly what the family has gone through. It's sheer frustration.
"Five years down the road we are now waiting for the CPS to make a decision on turning this into a criminal investigation.
"We are also calling for a proper investigation to examine the causes of Habib's death."
'Complex case'
The IPCC said its re-investigation, which included "expert restraint opinion around the use of force" was "nearing conclusion".
"Five Thames Valley Police officers have been interviewed by the IPCC, under criminal caution, as part of the investigation," a spokesman said.
"This is a complex case and deliberation has inevitably taken some time, but we are keeping the family informed."
A Thames Valley Police spokeswoman said the force was awaiting the outcome of the IPCC investigation.