Whipsnade Zoo chimpanzees fitted with heart monitors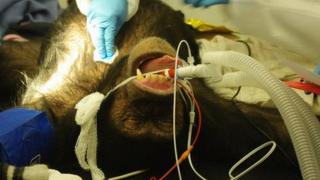 A pair of chimpanzees have been fitted with under-the-skin heart monitors at their Bedfordshire zoo.
Vets at Whipsnade are carrying out research into heart defects in apes.
Two males called Phil and Nikki were chosen because they are closely related to two other males diagnosed with cardiovascular abnormalities.
Data will be collected from the monitors, which have been implanted on the backs of the pair by the Zoological Society of London (ZSL) team.
They will allow researchers to monitor heart rates while the animals are awake, whereas before they have only been able to monitor them when they have been sedated.
The team said it would be able to train Phil and Nikki to present their backs to them so that data can be collected from the devices.
Sport monitors
Nic Masters, ZSL's head of veterinary services, said: "These devices mean we can monitor them when they're awake and active, which should give us a much clearer idea of what's going on.
"Heart disease, which may be related to an irregular heartbeat, is a common problem in great apes, so fitting the devices is a big step forward and we're really pleased with how it went."
The research is part of the International Primate Heart Project and is being carried out in partnership with Cardiff Metropolitan University.
Rob Shave, professor of sport and exercise physiology at Cardiff, said: "As part of the project we use similar tools as those used to screen athletes for heart defects prior to competition.
"The use of the implantable heart recorders in Nikki and Phil is an exciting next step."