Harpenden Town Council condemn 'fake' Gypsy site notice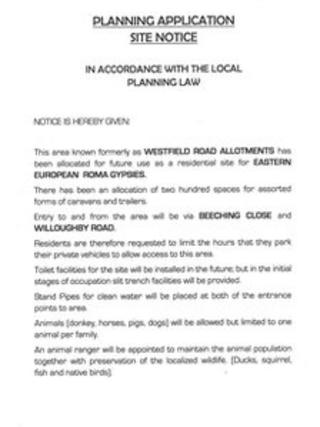 A fake planning notice with details of a proposed 200-pitch Gypsy site has been condemned by the local council.
The notice was put on a fence around the former Westfield Road allotments in Harpenden, Hertfordshire - land being considered for development.
It warned that under plans for Roma Gypsies, residents' parking would be limited and trenches would be used until toilets could be built on site.
Mayor Rosemary Farmer said: "It was a very inappropriate joke in poor taste."
"It was put up where there are a number of elderly residents, who could potentially have been very worried by it, if they hadn't realised it was a spoof," she added.
No logos
The notice, which appeared over the weekend in Beeching Close, was headed "Planning Application Site Notice" but did not have any official council logos.
It said the area had been allocated for use as a residential site for Eastern European Roma Gypsies and entry to and from the area would be via Beeching Close and Willoughby Road.
It read: "Residents are therefore requested to limit the hours that they park their private vehicles to allow access to this area.
"Toilet facilities for the the site will be installed in the future; but in the initial stages of occupation slit trench facilities will be provided."
It also claimed stand pipes would be erected for clean water and animals such as donkeys, dogs, pigs and horses would be allowed, but "limited to one per family".
'Promoting tensions'
Joseph Jones, spokesperson for the Gypsy Council, said the "inappropriate" sign showed a lack of respect.
"In a way it shows how the whole gypsy traveller lack of accommodation is being manipulated by people to promote tensions in the community," he said.
"I don't know what the motive was of the person that did it, but it does highlight how gypsies and travellers are often used as a political football."
Mrs Farmer says the council is currently considering the sale of the site for affordable housing and for use by the charity Harpenden Mencap for residential accommodation and a children's unit.
Those against the land's development have expressed concern that protected Roman Snails had been found there - but the council said there was "no evidence of any colonisation" on the site.
The mayor said they had "absolutely no idea" who had posted the notice but when the council was made aware of its existence, it was immediately removed.